Search Products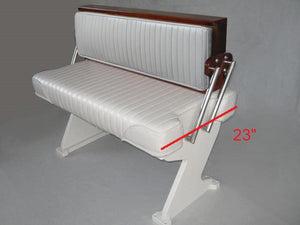 Reversible pilot seat (RPS). This seat is complete with Z-legs, stainless pivot arms, LARGE 38X23" seat cushion, and mahogany backrest with inlayed cushions on either side. (Choose desired configuration above) This seat was designed for the Boston Whaler Newport but will also fit the Montauk, Outrage and many other center console boats. (Please click here to see RPS-S Montauk/Outrage option )  Stainless steel grab handles for the top of the backrest are available for purchase here. Cover available here.
Care and Maintenance Instructions 
Note: In addition to the wood screws provided, it is recommended to use 5200 Marine Adhesive to attach the cushion to the Z-legs. This is highly recommended for the 18" Z-legs which flex more than the 15" legs. To do this, cut a small patch of mesh off around each screw location and apply adhesive so the wood is adhered directly to the legs.
Note: If you are storing something underneath the seat that is narrower than 32" by 2"-6" (varies by position) then you will have the full 15" or 18" height clearance underneath. If you are in need of more space or height a popular option is to use wood blocks underneath the legs.
Overall Dimensions: 38" Wide x 23" Deep x 31" Tall
Seat height: 19" (Also available with taller 18" legs that add 3" to the height)
Storage dimensions underneath seat: 30.5" x 23" x 13" (15" Z legs)
                                                       30.5" x 23" x 16" (18" Z legs) 
Installation Instructions