Search Products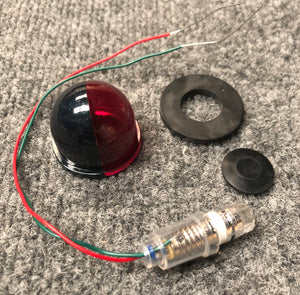 • Use only a fraction of the power of conventional bulbs!
• Shines much brighter than conventional bulbs!
• Will last over 50,000 hours of continuous use!
• Virtually indestructible and will hold up to the harsh marine environment!
LED bulb, socket with 24 gauge 8.6" wires, gaskets, and lens for vintage style (not Perko) navigation bow light used on classic Boston Whalers. The bulb is a12 volt LED (light emitting diode) light source, which is far superior to conventional bulbs. 14 gauge wire is the most common but 16-18 can also be used. This item is a must have for people wanting to restore the original look of their classic Boston Whaler. Will fit the vintage bow lights seen here and here. Not for Perko lights.

Note: The 12V LED bulbs use approximately 1.5 - 2 amps.  16-18 gauge wiring can be used but will be larger than necessary, In this instance,, you can simply snip off some strands to reduce the gauge and then use butt connectors.

Note: We have changed to a brighter LED bulb.  This bulb is taller than the previous LED bulb used and may sit taller than desired in your light housing.  You can either open the seating hole to allow for the socket to sit deeper or try tapping the top of the socket with a rubber ended tool.