Search Products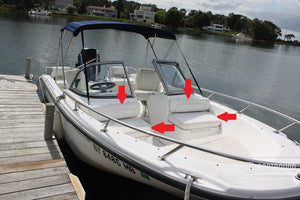 Pair of seat cushions and backrests (4 cushions total) for the front passenger's seats on Boston Whaler 160 Ventura. The backrests have a solid core and attach to the console with 3 bolts/nuts. Made from UV resistant marine grade bright white vinyl with gray piping, 2" Ultra High density foam and stainless hardware.
Care and Maintenance Instructions
Backrest Dimensions (plastic core): 25" x 6"
Seat Cushion Dimensions: 23" (long side) x 14"