Search Products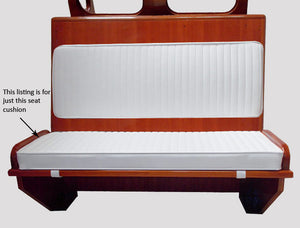 Boston Whaler 16'/17' Nauset, Sakonnet or Easport console front seat cushion. This listing is for the single seat cushion that is used for the front seat of vintage Boston Whaler 16'/17' models that are equipped with a mahogany center console with a front seat. This seat cushion uses a unique strap system that allows it to be fastened to the seat without the need to drill for snaps.
Care and Maintenance Instructions
Note: There was a larger console, and therefore a larger bench seat, in production for a short time. Please confirm dimensions before purchasing. 
Seat cushion dimensions: 34" x 12" x 2"