Search Products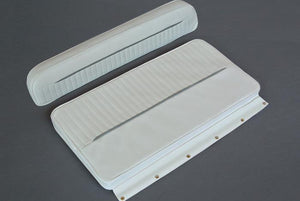 Boston Whaler Dauntless 14', Dauntless 16', Dauntless 18', Dauntless 22', and Montauk 150/170 RPS seat and backrest cushion. The seat cushion has an all foam core.  These cushions are made from UV resistant marine grade bright white vinyl with grey piping.  Includes stainless snaps for installation. 
Care and Maintenance Instructions
Note: Some older model Dauntless' may have a seat bottom cushion which has a solid core. You can determine this by removing the cushion. The solid core cushion set can be found here.
Seat Dimensions- 32 1/2" x 16 1/2" x 2"
Backrest Dimensions- 40" x 5" x 9.5"